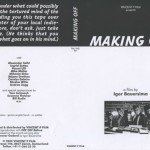 …………………..
…………
….
………….
A funny and melancholic journey to the far end of the Hollywood dream factory's distribution chain, to the peripheral world of the employees of a video rental shop.
The shop serves as the backdrop for the obsessions, fantasies, joys and despair of this small group of friends as they wait their five minutes of fame.
Impatient with Hollywood, they begin to take an interest in the theatre and despite the perversity of the hard and pitiless world of the stage where all the world struts and frets, they gradually begin to find the images they need to express their doubts, uncertainties and yearnings and to adopt these in common. The film is inspired by the award winning theatre production Forever Godard by Igor Bauersima.
A film by Igor Bauersima
90 ' color film – German/English/ French – no subtitles
Format video / blow-up 35 mm / farbe
Produced by sonimage GmbH/OFF-OFF Bühne/ ZDF/3Sat Produktionleitung Claudia Wick
Director: Igor Bauersima | Cinematography: Thomas Hardmeier | Montage: Georg Lendorff | Light: Thomas Hardmeier/ Anita Vetterli | Sound: Dieter Meyer/ Ramon Orza |Art Direction: Urs Fischer